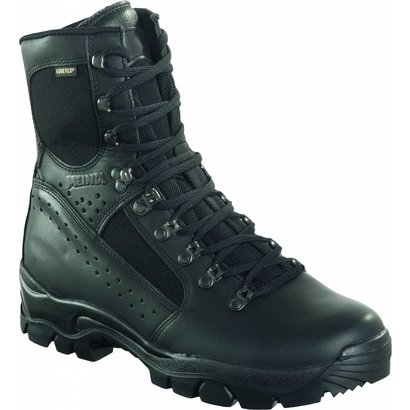 Meindl
Kampfstiefel Leicht
Availability:

Out of stock
Note: Sizes are in UK. Please see attached sizing chart for US conversion. ...
More information
$12.50 Flat Shipping Rate

Veteran and Law Enforcement Officer Owned
Product description
Brand:

Meindl

EAN:

4033157386334

Availability:

Out of stock
The Kampfstiefel GTX is an exceptionally lightweight boot that is cool to wear but has a strong and supportive polyamide shank. Cordura venting sewn into the leather uppers allows the boots to breath more effectively, making the Kampfstiefel ideal for a temperate climate where the user is required to cover rougher terrain. Kampfstiefel has a strong fully orthotic polyamide shank that holds the foot in its correct shape and also offers a high level of penetration resistance through the sole by sharp objects. The Meindl Multigriff By Vibram® sole consists of firmer composition rubber with stabilizers and shock absorbers built into the one-piece design. These boots are 100% waterproof, Gore-Tex® lined and also include Meindl's air pumping and moisture drainage system for the removal of perspiration or water.
Colour – Black Anti-Static, Oil, Petrol, and Acid resistant sole.
Shock absorbing midsole.
Upper - Waterproof leather/Mesh
Lining -Gore-Tex® Performance
Comfort Footwear Footbed - Air-Active®
Sole - Meindl Multigriff By Vibram® Grip
Weight - 740g