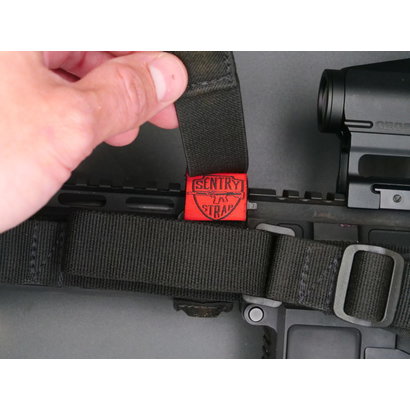 NeoMag
Sentry Strap
301-BK
NeoMag's Sentry Strap uses 2 strong magnets to hold your sling to your rifle. ...
More information
$12.50 Flat Shipping Rate

Veteran and Law Enforcement Officer Owned
Product description
Brand:

NeoMag

Article number:

301-BK

Availability:

In stock
Sentry strap is our solution to the issue that is sling staging.  True to our style, we use 2 powerful magnets inside the Sentry strap to hold your sling fast to your rifle. Deploying is simple; grab your sling, and tug. The sentry strap breaks away on its own. Fast and easy. 
The minimum size the Sentry Strap will fit is roughly 1" (a buffer tube). The maximum circumference is 10" (3.25 Max Diameter). The Sentry Strap is secured with Velcro. The sling catch is secured with magnets and will fit anything from padded slings to webbing straps.