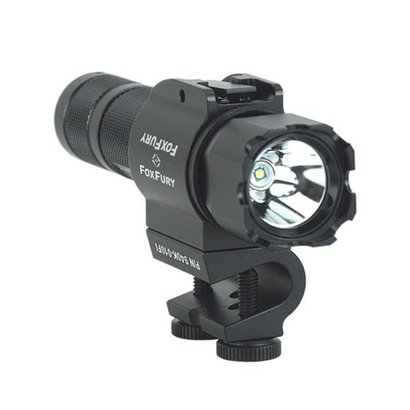 FoxFury
SideSlide Side Mounted Helmet Light
FoxFury's powerfull 200 lumen helmet mounted light is excellent, for structural firefighting, rescue, and industrial applications. ...
More information
$12.50 Flat Shipping Rate

Veteran and Law Enforcement Officer Owned
Product description
Brand:

FoxFury

Availability:

In stock
Output: 200 lumens
Battery: Up to 8 hours
Type: 2 CR123 batteries or 1 18650 battery
Highly Visible Rear Safety LED
Being seen from behind is an asset in fire, rescue and industrial applications. The on/off switch flashes green when the light is activated and can be seen from over 1,200 ft (366 m) away.
This highly durable flashlight is made of high quality aluminum. It withstands impact and is suitable for use underwater.
One of the last things you want to experience at a crime scene is having your flashlight roll (especially off a surface) as that means you risk contaminating the scene. This flashlight's square anti-roll head prevent this from happening.
In an emergency situation, this flashlight's strike bezel is strong enough to shatter your car windshield. It is also effective in self defense.