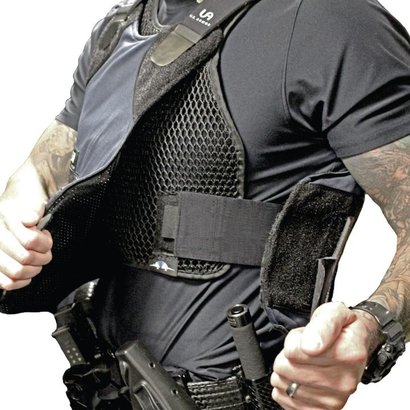 Armadillo Dry
Armadillo Dry Vest
The durable Armadillo Dry Cooling Vest sits under your body armour to reduce moisture, heat and odour. ...
More information
$12.50 Flat Shipping Rate

Veteran and Law Enforcement Officer Owned
Product description
The Armadilo Dry Cooling Vest is a durable polyester-mesh vest that sits under your body armour. It creates space between your vest and body, so refreshing cool air can circulate and cut down on heat and moisture build-up. You'll notice reduction in odor and sweat, resulting in a drier undershirt.
This vest also provides weight distribution, making your body armor sit more comfortably and feel lighter.
SIZING: 
SMALL - Chest > 34", Torso 24-30", Weight > 145lbs
MEDIUM - Chest 35-38", Torso 31-38", Weight 150-175lbs
LARGE - Chest 39-45", Torso 36-43", Weight 180-215lbs
X-LARGE - Chest  46-50", Torso 40-46", Weight 220lbs-260lbs 
2XL- Chest greater 50", Torso greater 48", Weight greater 265lbs 
(Torso is measured at the lower rib)